PREP: 10 MIN  |  COOK: 6 MIN  |  MAKES: 9 – 10 FRITTERS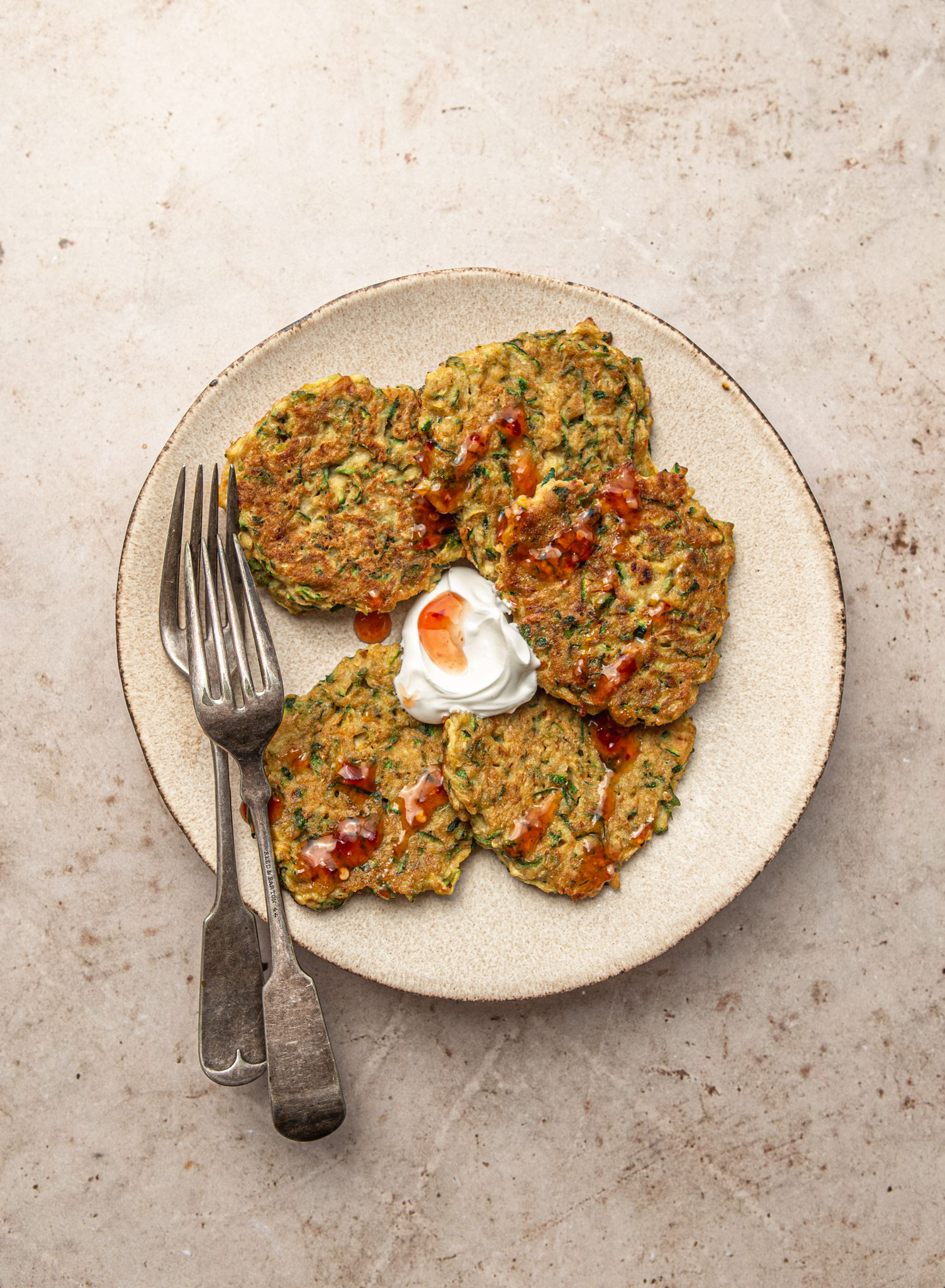 Recipe by Natalia Wrobel Katz
Natalia Wrobel Katz is a food photographer, food blogger and content creator. Natalia works with a variety of food and product brands to show their unique story through creating visual content. You can check out her photography work at nwkcreative.com and recipes at @natteats on instagram.
These are the most delicious fritters – fluffy on the inside, crispy on the outside. Ginger juice and the nutritional yeast boost the flavor. Great for breakfast, lunch or dinner appetizer. Lovin' the chickpea flour.
ingredients
2-3 small grated zucchini (about 474 ml when packed)
45 grams chickpea flour
1 tablespoon nutritional yeast
3/4 teaspoon baking powder
3/4 teaspoon salt
1/2 teaspoon ground ginger
1/2 teaspoon smoked paprika
2 tablespoons The Ginger People® Ginger Juice
2 tablespoons olive oil, for frying
Mayo or sour cream (optional)
Sweet Chili Sauce or Siracha (optional)
directions
Shred or grate zucchini. Place in sieve to drain. Wrap zucchini in a paper towel and squeeze out liquid.
Combine all dry ingredients in a mixing bowl, then mix into zucchini. Mix in Ginger Juice. Let mixture rest for 10 minutes.
Form 9-10 small patties.
Heat skillet over medium-high heat. Add olive oil. Reduce heat to medium and add patties to skillet. Flatten patties slightly. Fry for 2-3 minutes on each side or until golden brown.
Serve with mayo or sour cream combined with Sweet Chili Sauce, Sriracha or your favorite sauce
There are no reviews yet. Be the first one to write one.