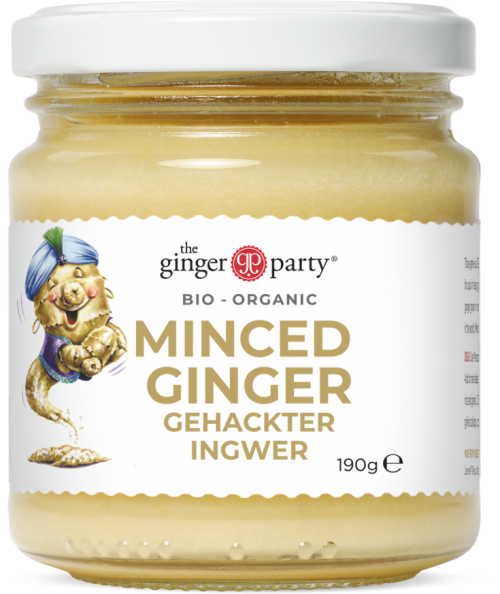 Organic Minced Ginger
Minced ginger to easily incorporate into your favorite homemade dish.

Product Details
Add Organic Minced Ginger to marinades, salad dressings and sauces. Flavor up steamed rice. Create a ginger stir fry, season grilled scallops, Napa slaw or shrimp cocktail.
Made in China.
Read more about the health benefits of ginger
Ingredients
Organic ginger (90%), organic cane sugar, organic rice vinegar.
Nutritional information
| Nutritional Information | Per 100g |
| --- | --- |
| Calories | 175kj |
| Total Fat | 0g |
| Saturated Fat | 0g |
| Trans Fat | 0g |
| Cholesterol | n/a |
| Sodium | 21.6mg |
| Salt | 0.05g |
| Total Carbohydrate | 10.3g |
| Dietary Fiber | 1.3g |
| Sugars | 5g |
| Protein | <1g |
| Vitamin D | 0mcg |
| Calcium | 27.9mg |
| Iron | 0.8mg |
| Potassium | 18.6mg |
Product Reviews
---