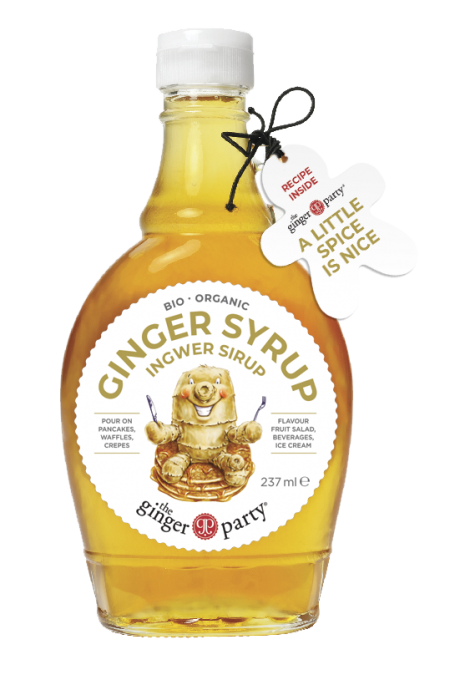 Our products
Organic Ginger Syrup
Golden ginger-infused syrup to drizzle over fruit salads, ice cream or cakes. Swirl the sweetness of ginger into a warm bowl of oatmeal or glaze chicken, roasted carrots or sweet potatoes.


Product Details
Put away that bottle of maple syrup! There's something new for your breakfast table that promises to spice things up. Our Organic Ginger Syrup offers a creative alternative to traditional pancake syrup. Inspired by a delicious breakfast of ginger and cinnamon whole wheat pancakes served at a popular breakfast diner in San Francisco, we couldn't resist bringing a ginger-spiced syrup to market.
Recipient of the 2013 sofi™ Silver, Dessert or Dessert Topping category
2011 Veg News "Best In Show" award winner
Voted Best New Vegan Product at Expo West 2011
Beyond spicing up morning fare, The Ginger People's Organic Ginger Syrup can run right into cocktail hour. It's great in gingertinis or as a flavoring in sparkling water to create a non-alcoholic beverage. Organic Ginger Syrup is also a flavorful cooking glaze. Try it over roasted carrots, chicken, pumpkin and yams. Add it to warm water (and brandy, if you please) as a soothing nightcap.
Made in China.
Read more about the health benefits of ginger
Ingredients
Organic cane sugar, organic ginger (30%).
Nutritional information
| Nutritional Information | per 100ml |
| --- | --- |
| Calories | 1292kj |
| Total Fat | 0g |
| Saturated Fat | 0g |
| Trans Fat | 0g |
| Cholesterol | n/a |
| Sodium | 2.8mg |
| Salt | 0.007g |
| Total Carbohydrate | 77.2g |
| Dietary Fiber | 0.77g |
| Sugars | 69g |
| Protein | <0.1g |
| Vitamin D | 0mcg |
| Calcium | 22.5mg |
| Iron | 0.20mg |
| Potassium | n/a |
No Artificial Ingredients
Non GMO
Vegan
Organic
Gluten Free
Made with fresh ginger
Frances B., Gloucestershire, UK
The Ginger Syrup, sheer liquid gold that had previously escaped my knowledge. It is dreamily good!
Fiona H., Newcastle, NSW
I love a drizzle of your ginger syrup over fruit salad served with Greek yoghurt - yum!
Sustainable Farming
Our mission to create the tastiest and purest ginger products starts with finding the world's best ginger growing regions. Our ongoing search took us to the island of Viti Levu in beautiful Fiji, one of the most pristine ecosystems in the world, and our newest ginger source.
Our farms